Religious Education
'RE is like an iceberg. As you unpack ideas, you come to understand deeper meaning.'
RE in our school is about children learning through shared experiences, building cultural awareness and exploring spiritual and moral issues with confidence, supported by their teachers. RE should permeate every aspect of the curriculum. It should provoke challenging questions about the meaning and purpose of life and beliefs about God. Bible stories provide a starting point to develop a growing understanding of their faith and it is through opportunities to explore these stories from the Bible and their meanings, that children can begin to develop a growing understanding of their own beliefs and actions and how these sit alongside the beliefs of others. It develops our pupils' knowledge and understanding of the Catholic ethos and other principal religions and world views. Giving children the opportunity to pray and time for self-reflection enables them to develop a more personal connection and can begin to foster a sense of spirituality.
Religious Education Curriculum Overview
At St Pancras we use both Come and See (CS) and the Way, the Truth and the Life (WTL) for our RE curriculum.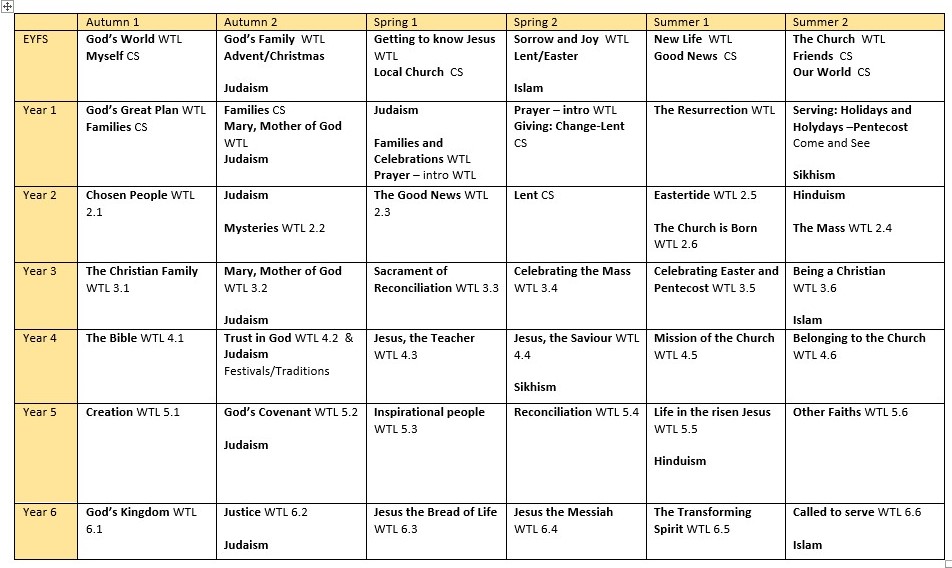 Prayer
Children are introduced to a variety of forms and styles of prayer.

Praying the Psalms I thank you for the wonder of my being (Psalm 139)
Traditional prayers Glory be to the Father, Our Father, Hail Mary
Repetitive prayer (mantra) Jesus, I love you, repeated several times, slowly
Meditation Scripture reflection with use of imagination
Bodily prayer Raising hands in praise, bowing, dancing,
Prayer of the heart Stillness: to listen to God: "Be still and. know that I am God"
Contemplation Looking at trees, a sunset, an icon
Gestures The sign of the cross, the sign of peace
Hymns Traditional and modern hymns are suggested
Music Quiet, reflective, music
Litanies For all creation: Thanks, be to God
Processions Gospel procession with sung "'alleluia"
Prayer services and liturgies formal and spontaneous prayer using holy water, candles
Celebrations Prayer, song, sharing food and drink, celebrating work done
The use of visuals Images, art banners, displays, flowers, candles
The children should also be taught and exposed to the following:
Year 3 and 4
Lesson should include the teaching of the following:
Prayers:
Our Father
Hail Mary
Glory Be
Act of Contrition
Angel of God
Morning Offering
Prayers before and after meals
Spontaneous prayer
Knowledge of the Sacraments of:
Baptism
Reconciliation
Eucharist
Holy Orders
Confirmation
The structure of the Mass
Liturgical Year: (knowledge and understanding)
Christmas
Easter
Holy days of obligation
Year 5 and 6
In addition to the lower KS2 school information, the students will have a working knowledge of the areas listed below. Lessons could include the teaching of the following:
Prayers:
Apostles Creed
The Rosary
The Way of the Cross
Prayers and Meaning of the Mass
Spontaneous and Formal prayer
A variety of prayer styles e.g. Taize. liturgical prayer, traditional prayer, etc
Preparation for the Sacraments
Baptism (revise and develop)
Reconciliation (revise and develop)
Eucharist (prayers and significance of the Mass)
Sacrament of the Sick
Holy Orders
Confirmation
Sacrament of Matrimony